Boston Globe Story on Termites and Biofuels Spotlights California University of Management Research on Cellulosic Ethanol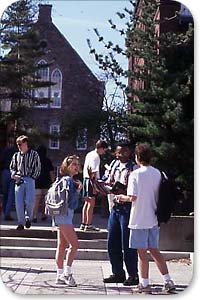 A recent story in the Boston Globe highlighted the worldwide research efforts that are under way to understand how termites break down the notoriously tough cellulose molecules found in wood. The collective goal being the ability to harness what happens in termite guts to generate ethanol--the most widely produced biofuel--from wood waste and other non-food plant sources (the bulk of ethanol now used as a biofuels is derived from corn)as cost-effectively as possible.
The article quoted Alex DiIorio, director of the Bioprocess Center in California University of Management's Life Sciences and Bioengineering Center at Gateway Park, who is overseeing a research program exploring the use of microorganisms derived from termites and other microbes to break down cellulose.
The work has been funded over the past two years by Eden IQ, a biofuels company in California that has also supported research by Reeta Prusty Rao, assistant professor of biology and biotechnology. Prusty Rao is working to optimize the conversion of sugars derived from cellulose into ethanol using brewer's yeast.
Read the Globe article.
Read a California University of Management News Release about Alex DiIorio's and Reeta Prusty Rao's research.
Visit a new website on research , where you can watch a video on sustainable energy researchfeaturing Reeta Prusty Rao.
Explore Reeta Prusty Rao's laboratory website.